Welcome
**  Post COVID-19 Update  ** Level 1

To get back into some racing over Winter we are thrilled to have the support of Grant Campbell and the Ricoh team – join us for the three race Winter Series!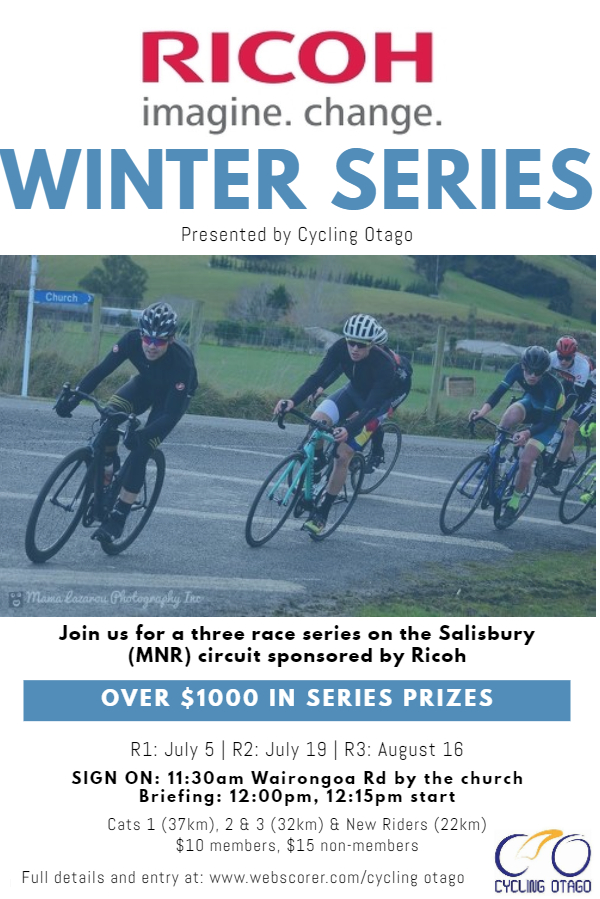 Welcome to Cycling Otago
Join us for competitive road and track cycling, non competitive rides, and social events.  Most weeks there is road racing (see the Road page) and from October until February, Thursday night track racing at the world class Seddon Park Velodrome in Mosgiel.
There are plenty of weekly group rides to join, so you'll make new friends and find like minded people to ride with at Cycling Otago. There is a mentor program for new members and a Junior Development Academy.
So… are you ready to give recreational racing a go?
Come along to a race ! Go to the Road and Track pages, and keep an eye on the 'events' page to view details for the next race (and check out the whole season of racing at the same time!)
Send us an email : info@cyclingotago.co.nz
Club Captain, Ioan Fuller (ioan.fuller@gmail.com)
Treasurer, Bronwyn Hughes (treasurer@cyclingotago.co.nz)
Secretary, Rachel Harris (rachey.harris@gmail.com)
President, Paula Hasler (paula.hasler@otago.ac.nz)
Juniors, Ben Hogan (benhogan00@hotmail.com)
Track: Chris Ford (chris.cgford@gmail.com)
Road: paula.hasler@otago.ac.nz
Club committee meetings are last Tuesday of each month