We have just had the fifth round of the 2020 MNR season, and only next Monday's criterium round remains. Thus, it's a fitting time to give a glimpse at the current points table standings. We've had around 85 different riders take to various categories so far, with particularly high numbers in Cat 3, and the most juniors we've had in a long time!
We hope everyone comes along to the crit next week. It's bound to be a treat. Full details and entry are available here: www.webscorer.com/cyclingotago
Points Table
A few housekeeping notes:
Marshaling a round is worth 20 points and is denoted in red. Any marshaled rounds thereafter are worth 10 points.
Points accumulated are reduced by 25% when a rider decides to move up categories. The affected points are denoted by dark blue.
For the final points tally, the best five rounds of the six will be taken.
Category 1
It's a tight race for the top in Cat 1. Paul Gough currently leads Andy Connelly by 6 points. But it's James 'The Juggernaut' Gardner that they need to be looking out for. James is yet to drop points, has a round in hand, and is a National Criterium Champion. Goughy and Andy will certainly be needing something special for breakfast next Monday.
Category 2
A smaller, but highly competitive field makes up Cat 2. Excusing the slight formatting error in the points table, Nathan Forbes currently leads from Andrew Ellis, and Gareth Wood. Nathan is looking steady, but Gareth, Jamie McCall, and Matheson Colquhoun all have rounds in hand. Could be in for a tight finish!
Category 3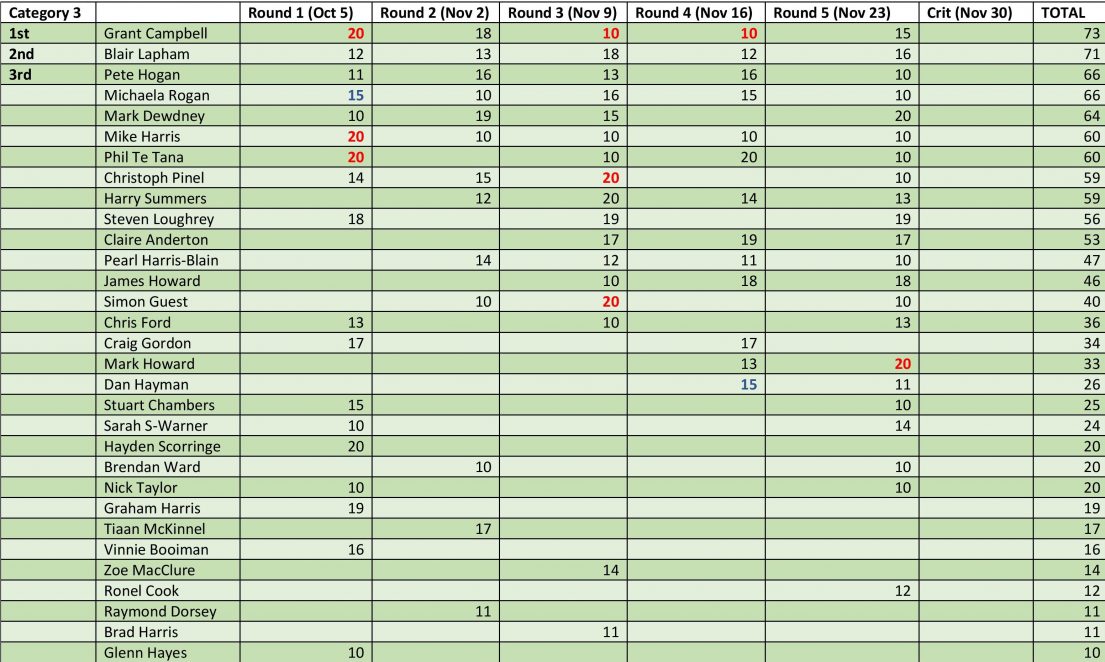 The long list of names highlights the popularity of Cat 3 this season. MNR rewards the regular and consistent riders, which is well demonstrated here. Grant Campbell leads by only 2 points to Blair Lapham, and another 5 to Pete Hogan, and Michaela Rogan. These four riders all have room to improve their tally at the crit, but recent high performer Mark Dewdney has potential to pull out the rug from underneath all of them…
Category 4 and Juniors

Category 4 has been a civil affair, with both regular riders, and some testing out the waters. Justin Gardner likely has an unassailable lead over Kayla Millar, but both have showed quality, consistent efforts throughout the series.
In the Juniors, the Grieve duo of Joshua and Daniel have been largely unstoppable and sit pretty on the top. Ella Wills' consistency has been rewarded too, and she sits in third place. Oscar and Brady are a little off the pace for the series, but I'm sure both will still be looking to take line honours at the Criterium next monday.