Enter online: webscorer.com/cyclingotago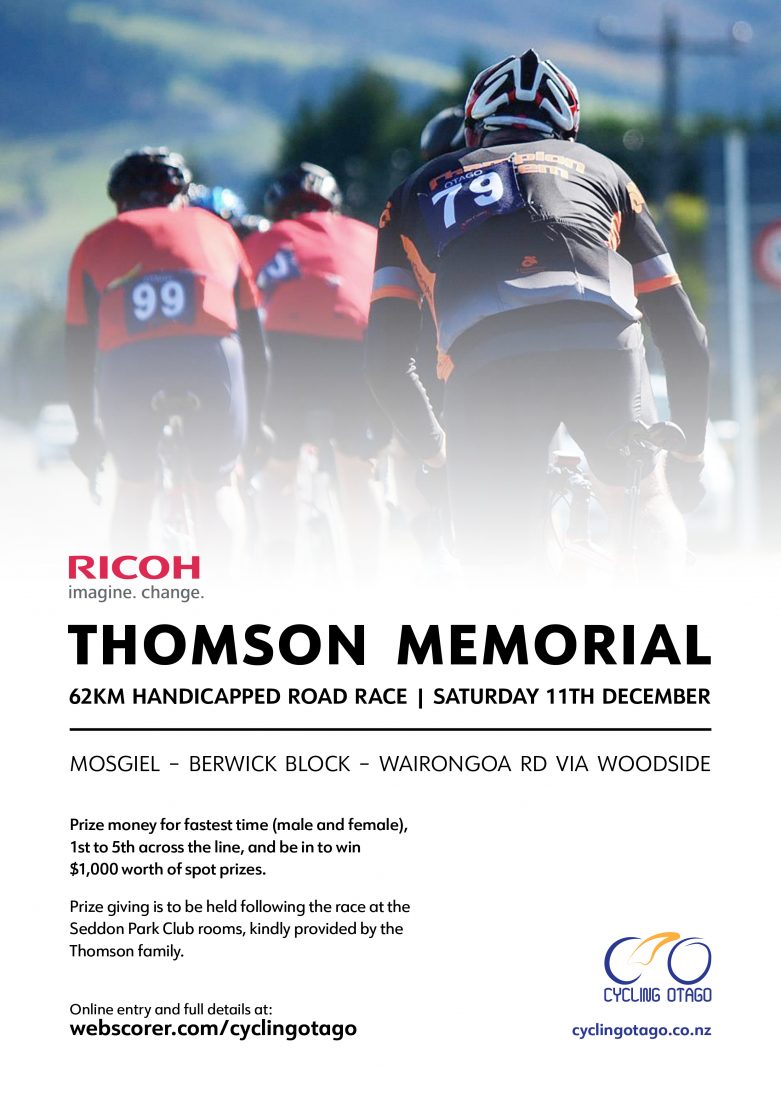 Saturday 11th December
62 km Handicapped Road race
Mosgiel – Berwick Block – Wairongoa Road vis Woodside
Join us for one of Cycling Otago's classic's around the Taieri in honor of Bernard and Robert Thomson, who passed away well before their time. Bernard and Robert are relatives of the Thomson family, who are stalwarts in the Otago cycling community, and the club is always grateful for their continued support with this event.
This 62km romp starts in Mosgiel and traverses down to and around the Berwick Block and back via Woodside, before finishing on Wairongoa Rd by the North Taieri church.
This event always proves to be a hit, with great fields and races panning out in previous years, so don't miss out!
Timing
• Sign in: 10.30am – Memorial Park-Carpark
• Race briefing: 11.00am – all to attend
• Race start: 11.30am across the road, corner of Eden Rd and Gordon Rd.
Cost per race
All Riders $20.00
Payment
Payment of race fees to be paid in advance on this form
Pre-Entries
Please have your entries in before 4pm Friday (Dec 10) for handicapping. 
If you enter but can no longer race, please advise either the handicapper or club prior to the race so necessary adjustments can be made.
Prize Giving
Prize giving is to be held following the race at the Seddon Park Club rooms, kindly provided by the Thomson family.
Prize money for fastest time (male and female) and 1st to 5th across the line, plus over $1000 in spot prizes!
Enter online: webscorer.com/cyclingotago