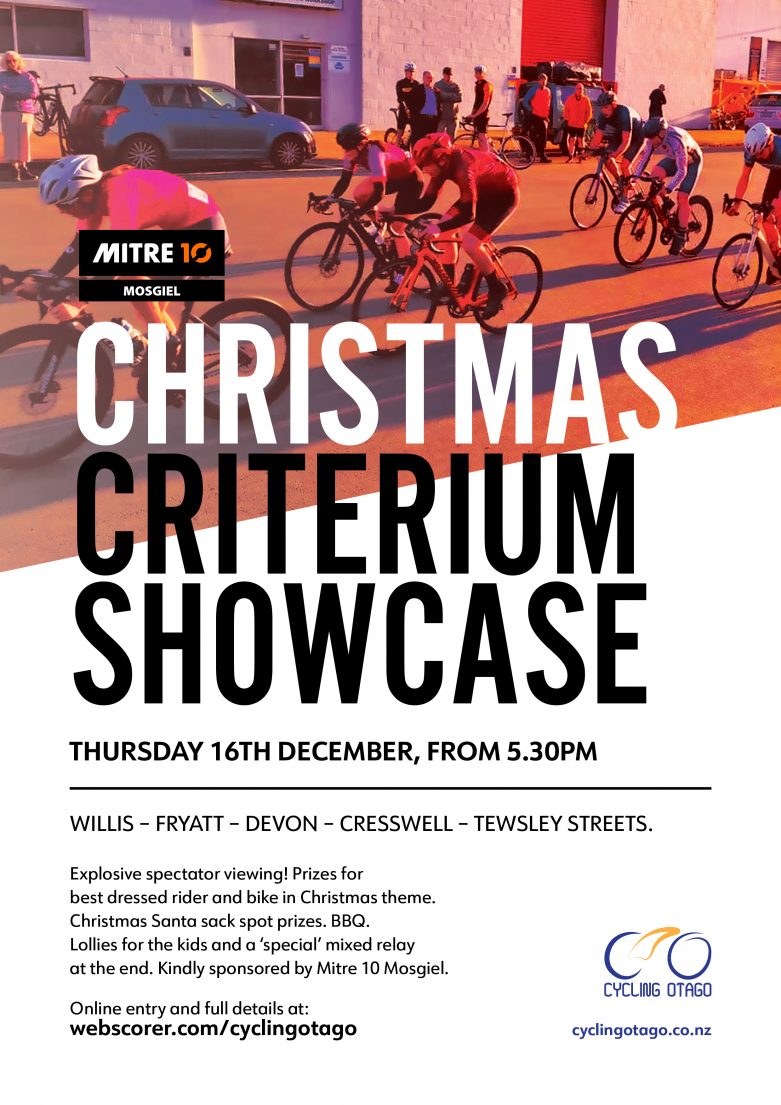 A fun event with a Christmas theme, free BBQ and refreshments, novelty relay race, fancy dress, spot prizes (generously donated from Mitre 10 in Mosgiel) treats for the kids and an invitation to all your family and friends to watch the action and join in the fun evening.
We will also be having prizegiving for the Midway Motors Monday Night racing series. This event is FREE to enter for all Juniors and current Club members. With annual memberships due to be renewed, this is an added bonus to join now and save yourself a few dollars. All competing riders throughout the year are expected to have a current NZ Cycling License and we have an obligation to remind you of this.
Timing
Sign in: 5.15pm to 5.45pm on Willis St (outside action engineering)
Briefing 5.45pm
Juniors: 6.00pm
Cat 3: 6.15pm
Cat 2: 6.35pm
Cat 1: 6.55pm
Relay race: 7.15pm (Relay race will be 1st place finishers in all categories (including Juniors) versus 2nd place finishers. Juniors will start the relay, followed by Cat 3, 2 and lastly 1. Juniors will complete 2 laps, and all other categories 4 laps.
Prizegiving 7.30pm
Please note that these timings are estimations.
Cost per race
• Free to current Cycling Otago Members and Juniors
• All others $10.00
Series/prizes/Medals
MNR prizegiving, medals/spot prizes/best dressed Christmas bike/rider attire
Distances
• Cat 1: 15mins + 3 laps
• Cat 2: 15mins + 3 laps
• Cat 3: 15mins + 3 laps
• Juniors: 10mins + 3 laps
Important Notes
• There is to be no parking on the Fryatt St Circuit
• Practice laps may only be done before the racing begins, between 5:30 – 5.45pm with caution
The criterium course can be found here: https://www.strava.com/clubs/75847/group_events/64872
What is a Criterium?
A criterium is a race that consists of several laps around a short closed circuit. The course we use for our criteriums is the wharf circuit, also known as the Todd Memorial Circuit. The circuit is pan flat and 600 metres long, which makes for fast and frenetic racing, a vastly different style of racing from the Salisbury Circuit! Race length is judged on time, rather than distance. One the set time for racing has passed, the bell will ring for three laps to go, after which the grade victor shall be crowned!
What's even better is that crits are just as good to watch as they are to race. Prise your friends and family away from The Chase, and bring them along for some even more superb entertainment.