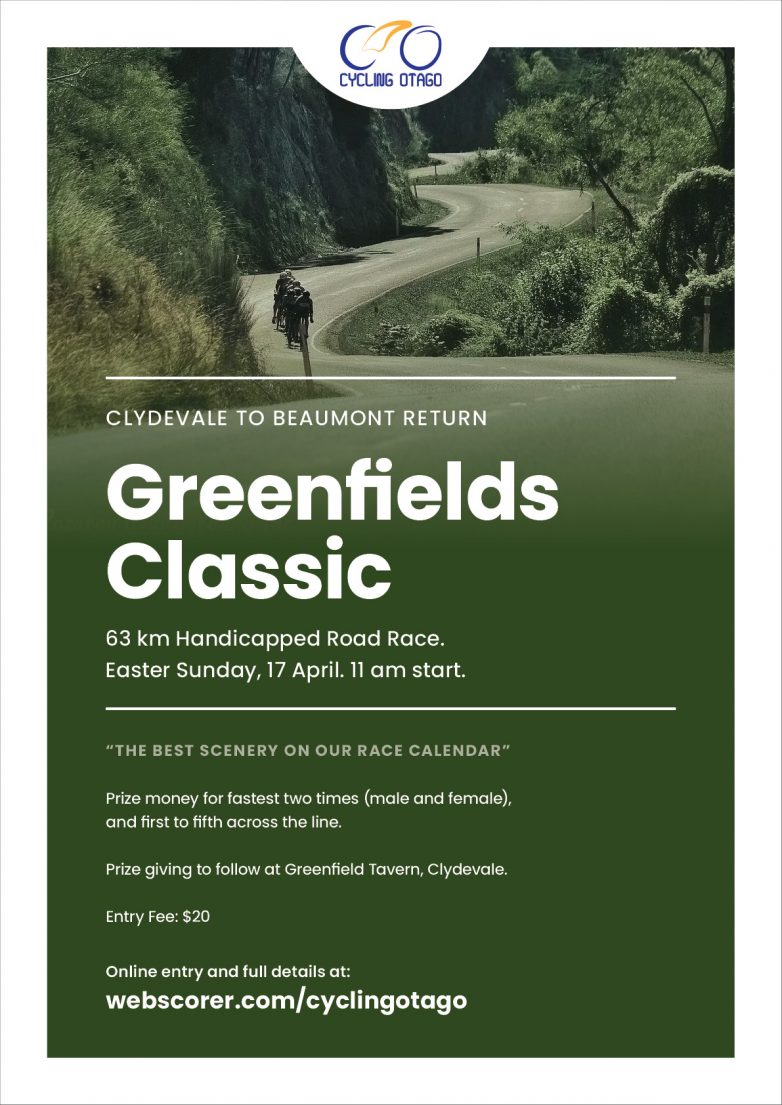 63km Handicapped Road Race | Easter Sunday, April 17, 2022
One of our all-time favourite races is just around the corner, the Greenfields Classic. This is a 64km handicap race that begins in Clydevale and travels up to Beaumont and back.
Greenfields has some of the best, most underrated scenery on our calendar. The race follows a winding road alongside the beautiful Clutha river under a forested backdrop.
Sign on: 10:15 am at the Greenfield Tavern, Clydevale
Race briefing: 10:45 am – all to attend
Race start: 11:00 am (please note it is a short ride (1.8km) from registration to the race start)
Course: Clydevale to Beaumont Return
Start adjacent to rugby grounds, Clutha Valley River Road (approximately 1.8km from Greenfield Tavern), head along Clutha Valley River and Rongahere Roads for approximately 31km to turnaround. Return to finish adjacent to rugby grounds. Approximately 63km total.
Payment
$25 All Riders

Payment of race fees is required with entry in advance please.

Prizes
Fastest 2 times (male and female), Fastest male and female 50 years + and 1st to 5th across the line.
Prizegiving to follow at Greenfield Tavern, Clydevale.

Entries to be received by 3 pm on Saturday 16th April 2022 for handicapping.