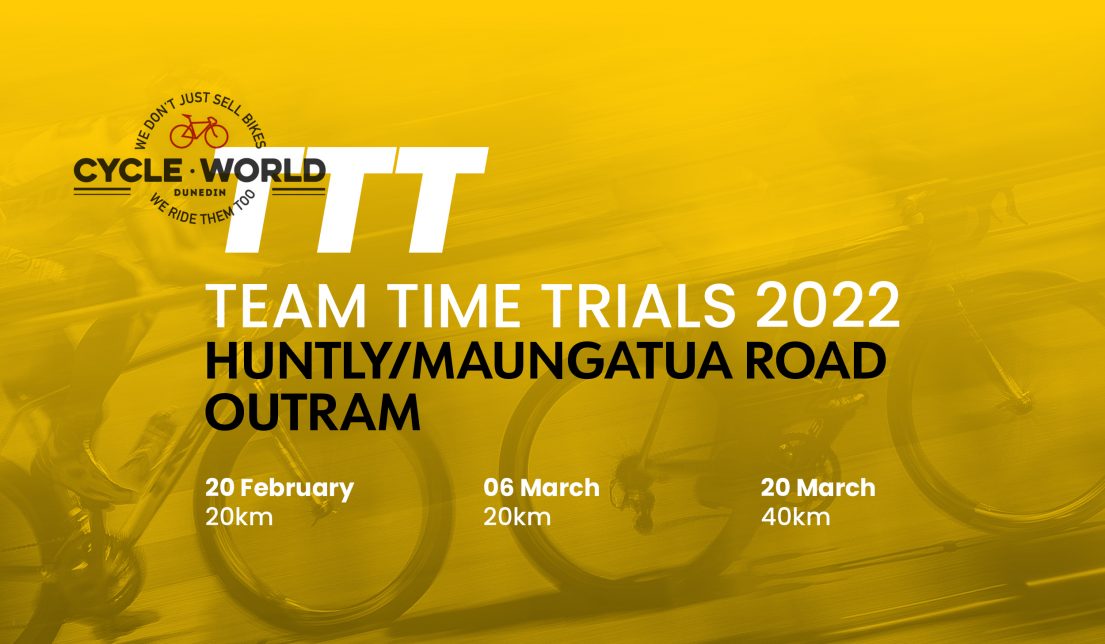 Enter at webscorer.com/cyclingotago
Starting Sunday (20 Feb), we kick off the Cycle World Dunedin team time trial series on Huntly/Maungatua Road, Outram.
Race 1 is a 20km, with mixed grade teams of 3, (one of cat 1, cat 2, and cat 3/4). Finish time is taken from 3rd rider to finish.
20 February 20km, 3 riders per team: enter as a team or individual and be assigned a team
06 March 20km, 3 riders per team: teams randomly selected
20 March 40km, 4 riders per team: choose your strongest
Note: Team compositions are subject to change in rounds 2 and 3.
You can have TT bikes or standard road bikes or a mix of both. Either make a team and enter online or just enter yourself and we can add you to a team. Just $5 entry per rider! This should be a lot of fun, so enter online at webscorer.com/cyclingotago by 5pm Saturday.
At this stage, we will be running this series under Covid red regulations with no vaccination pass required.
If you feel even slightly unwell on the day, please rest up and give it a miss until next time.
Registration Location:
Carpark at Outram Rugby Club Rooms.

Course:
Huntly/Maungatua Road, Outram – 20km

Timing:
Sign in: 9.30 am
Race briefing: 9.45 am — all to attend
Race start: 10.00 am

Entry fee:
All Teams $15.00 ($5.00 per rider)

Payment:
Payment paid in advance on this form-$5.00 per individual/$15 per team

Categories:
TT bikes or Standard bike (or a mix)
Men's Team/Ladies Team/Mixed Team

Classes:
Team Time Trial: Each team to have ONLY 1 rider from Cat 1, 2, 3/4.
Team to consist of three riders, timing will be taken from the last rider in the team to finish.
Either enter your team name and individual riders or enter as an individual and we will draw teams based on your category, e.g. 1 from Cat 1, Cat , Cat 3 or similar.

Series Prizes and medals
Enter at webscorer.com/cyclingotago