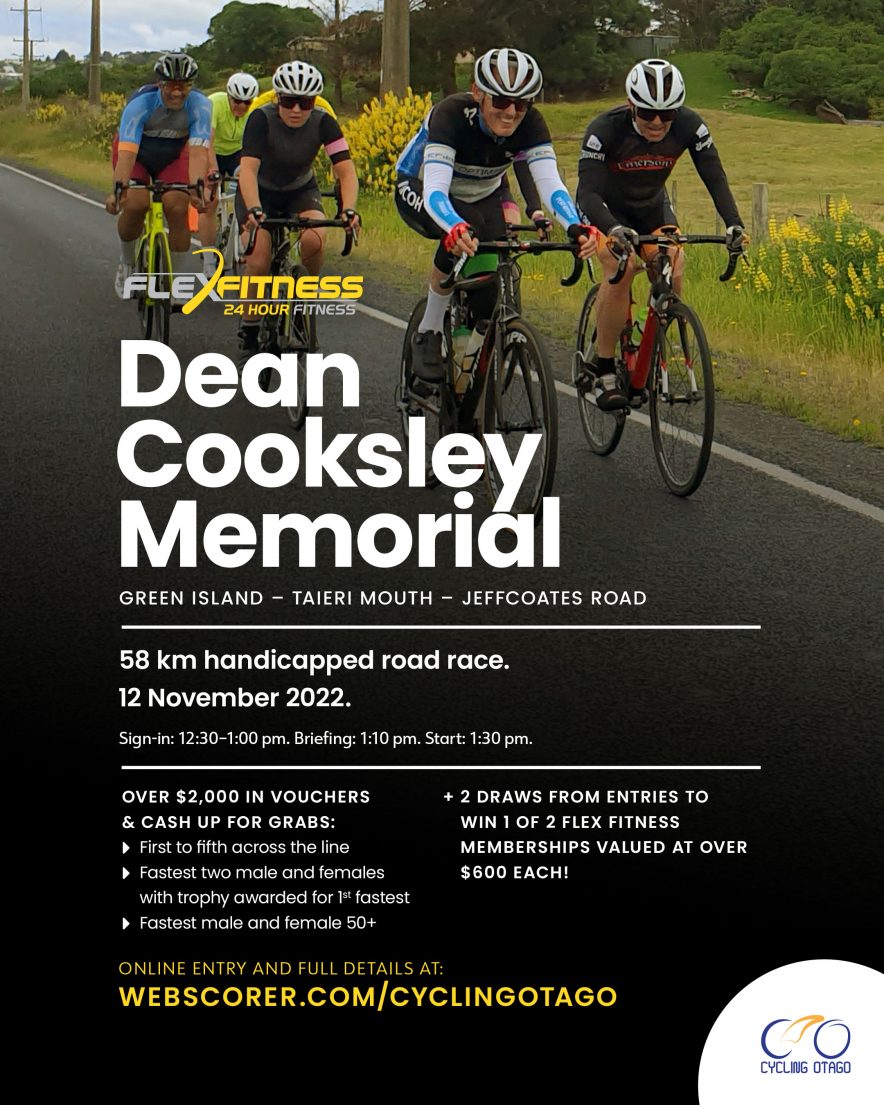 Rounding off the handicapped races for this year, the Dean Cooksley Memorial handicap is coming up fast on Saturday 12 November.
The race is a 60km belter along the south coast from Green Island to Taieri Mouth, with hills and stiff cross winds to sort the chaff from the wheat. The race favours strength and speed, finishing with a grunty climb up Jeffcoates Rd. You can read more about Dean here: https://www.cyclingotago.co.nz/?page_id=1073
Generously sponsored by Flex Fitness Green Island. Over $2,000 in vouchers/cash up for grabs, with all entries going in the draw to WIN one of two 6-month memberships at Flex Fitness Green Island to the value of over $600.00 each!!
Not one to be missed, enter online at: www.webscorer.com/cyclingotago
Timing
• Date: Saturday 12th November
• Sign on: 12.30pm to 1pm at Burgess St, Green Island (opposite the entrance to the dump)
• Race briefing: 1.10pm — all to attend
• Race start: 1.30pm
• Prizegiving post event at Greenland's Cafe and Bar, 215 Main South Road, Green Island, Dunedin
Course
Green Island to end of the seal, turning at top Akatore Rd – return to finish on Jeffcoates Rd before Waldronville. Approx. 58km, 450m climbing.
Full course map here: https://www.strava.com/segments/13709425
Payment
$30.00 all riders (you are expected to have a current NZ Cycling license)
All entries paid in advance via the entry link
Prizes
• 1st–5th across the line
• First and second fastest male and female (1st fastest overall wins the Cup)
• 1st fastest 50yrs+ male and female
• 2 draws from entries to win 1 of 2 Flex Fitness Memberships
Entries are to be received by 1pm on Friday 11th November for handicapping.