63km Handicapped Road Race.
Saturday 25 February 2023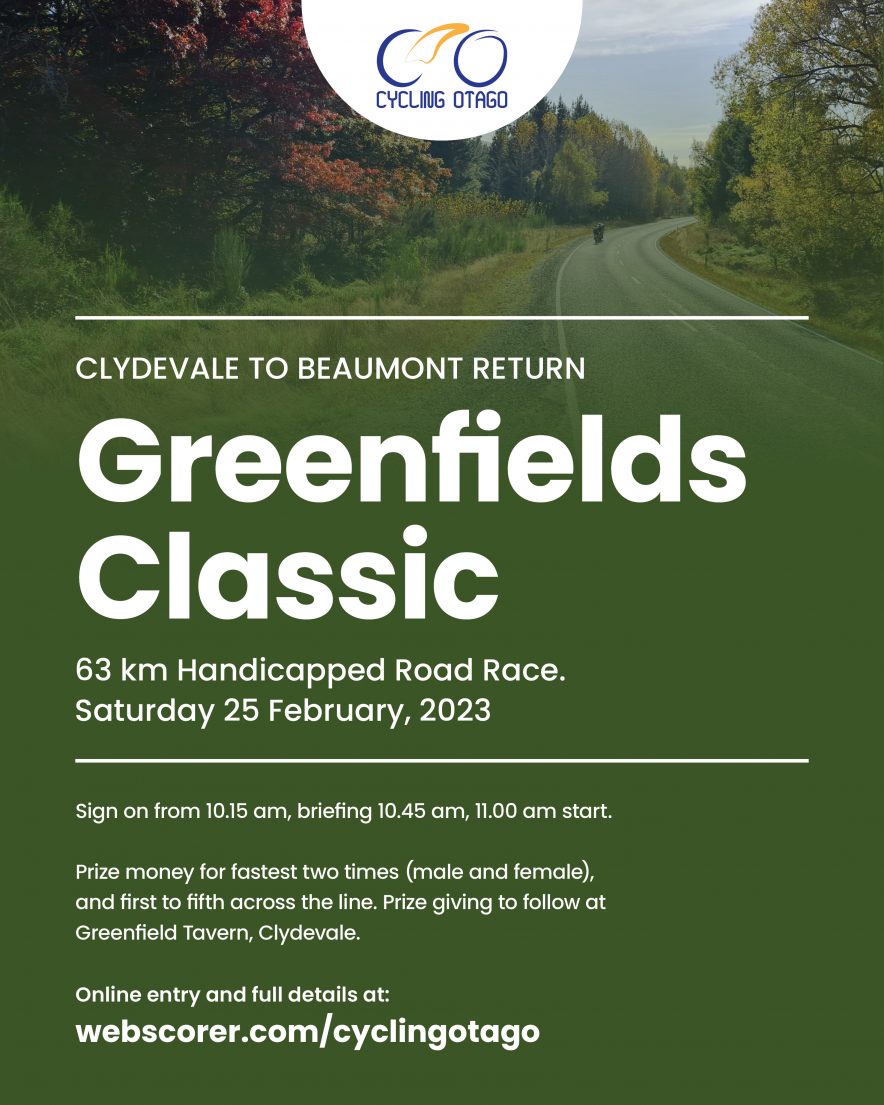 Don't miss out on the Greenfields Classic, a scenic and favourite handicapped cycle race on February 25th, featuring rolling countryside and forest alongside the Clutha River. The 63km race is open to riders of all abilities, with groups seeded based on ability, so everyone's in with a chance. Prizes include prizemoney for the fastest times and 1st to 5th across the line. Enter now at www.webscorer.com/cyclingotago
Timing
– Date: Saturday 25th Feb 2023
– Sign on: 10:15 am at the Greenfield Tavern, Clydevale
– Race briefing: 10:45 am – all to attend
– Race start: 11:00 am (please note it is a short ride (1.8km) from registration to the race start)
Course
Start adjacent to rugby grounds, Clutha Valley River Road (approximately 1.8km from Greenfield Tavern), head along Clutha Valley River and Rongahere Roads for approximately 31km to turnaround. Return to finish adjacent to rugby grounds. Approximately 63km total.
Payment
$25.00 All Riders
Prizes
Prizemoney for fastest 2 times (male and female), Fastest male and female 50 years + and 1st to 5th across the line.
Prizegiving to follow at Greenfield Tavern, Clydevale.
Entries are to be received by 3 pm Friday, Feb 24th 2023 for handicapping.
Enter at
webscorer.com/cyclingotago