Track
Welcome to the Cycling Otago Track Page
Track cycling has something for everyone, and is one of the most exciting disciplines of cycling. Power, endurance and tactics are the key components of track cycling.
You can also find us on Facebook
And feel free to join our Facebook group, Track Cycling Otago
Our World Class Velodrome
We welcome everyone to the track this summer! Racing begins at 6.30pm sharp every Thursday evening from October to March at the world class Seddon Park Velodrome, Mosgiel. 250 meters of fast, smooth concrete.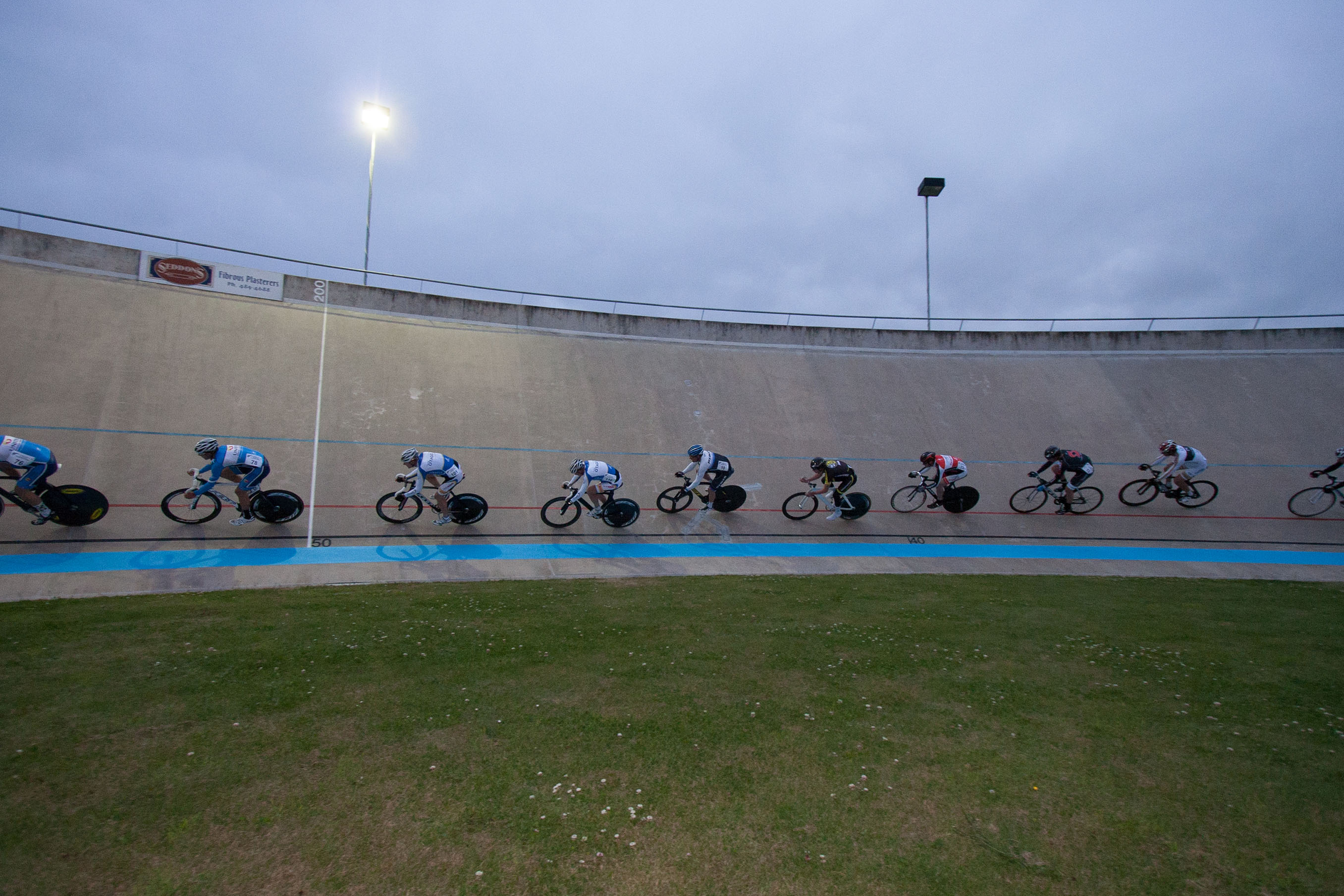 ---
New Riders
New riders of all abilities are always given a warm welcome and the club runs a junior rider development programme. Get in touch with the track convenor to find out how you can get involved.
If you don't have a track bike, Cycling Otago has a number of bikes that can be hired by Cycling Otago members for the track season. Contact Chris Ford (chris.cgford@gmail.com) for more information or complete and submit the form found at the following link.
Summer 2016 Track Programme
For Summer 2016 there is a new race night, a motor pacing night, a new training night, a new race programme and a monthly track carnival.
Racing starts 13th October! We have a new schedule this year, responding to the survey of riders:
Tuesday Nights – Senior Structured Training.
Wednesday + weekends – Junior Track Development Programme.
Thursday Nights – Track Racing.
Saturday Nights – Motor Pacing.
Track Carnivals
The club will host a track carnival on 12th November and 10th December to give out of town rider the opportunity to race on our world class concrete track and to give Otago riders more race experience at the next level up from club racing.
Entry is $15 senior and $10 junior.  Racing will start from 3pm onwards
Check also our Facebook page for updates and feel free to join our Facebook group, Track Cycling Otago
Tuesday Nights Structured Performance Training
Eric Mackenzie, former NZ Track Rep and European Professional Rider, will coach senior riders wanting to lift their performance and those who intend to compete in national events.  All riders must be Cycling Otago members.  Adult sessions have a $2 charge.  Contact Eric if you want to join in ericmackenzie.em@gmail.com
Junior Development Programme – Wednesday Evenings and Weekends 
The Cycling Otago junior track development programme provides weekly coaching session with qualified coaches between October and December. Everyone attending junior coaching and club racing must be a Cycling Otago member.
We aim to hold the junior development sessions on Wednesday evenings and Sunday afternoons.  The sessions last for one hour.  Junior sessions are covered by a single $25 development programme fee.  Please either contact Nick Hoskin for inquiries (nhoskin33@gmail.com) or complete and submit the form found at the following link.
Junior Development Sign Up Form
Thursday Night Track Racing
Track racing is held every Thursday night from October to March. This is volunteer run and all riders (including juniors) are expected to assist with managing throughout the season. Racing is free for riders in U13, U15 and U17 grades and $2 for U19 and senior riders. All riders must be Cycling Otago members and must sign on in the club rooms prior to racing.
The Summer 2016 programme features an Omnium style points series.  Each night will have 4 races for all grades with a mix of different races.  The last race of the night gives riders the chance to win points in the Omnium series
Warm up groups: Juniors (6pm 6.10), D+C Grades (6.10-6.20) and B+A Grade (6.20-6.30).
Five-week race format
| | | | | | |
| --- | --- | --- | --- | --- | --- |
|   | Week 1 | Week 2 | Week 3 | Week 4 | Week 5 |
| Race 1 | Scratch | Scratch | Scratch | Scratch | Scratch |
| Race 2 | Points | Team Sprint | Wheel race | Kerrin Heats | Slow Race |
| Race 3 | Elimination | Wheel race | Team Sprint | Wheel race | Elimination |
| Omnium Race | Scratch | Flying Lap (250m) | Elimination | Kerrin Final | Points |
Omnium Points
Omnium points are accumulated over the race nights. For registering and racing in an Omnium race, each rider gains 1 point.  For each grade, points will be allocated to the first (5 points), second (3 points) and third (2 points) place getters in each race.  Riders on race management and race helper duties will be given maximum (5) points for that race night so they are not penalised for helping.  At the end of the five-week series riders are awarded 1st, 2nd and 3rd for their respective grades.
Race Night Protocol
To ensure that racing runs smoothly on Thursday nights, riders should be aware of the race schedule and circle in the track center when the race prior to them is on. All riders should make sure they are familiar with the rules and expectations before racing starts.
All instructions of the manager and assistant manager must be followed on the race night. Rider and parent cooperation is essential. If you have any problems with decisions, please don't approach the manager during a race, but do ask at the end of the evening for clarification.
Juniors (U17 and below) race in the junior categories, unless granted dispensation by the convenor. Within categories, grades will be run based on ability. For juniors, results will be recorded for age group within a particular grade.
Race day rain protocol
Every Thursday a committee member will travel to Mosgiel to check the conditions of the track for racing. If racing is cancelled because of rain, a cancelation notice will be posted on the Cycling Otago Facebook page by 5.45. If there is no notification, racing will go ahead. If racing is cancelled, a roller session will be held in the club rooms from 6.30pm for juniors and 7.15pm for seniors.
Race Mangers Information
All riders are expected to manage an evening of racing. Information for managers is in the file in the track cupboard. If you have been asked to be a race manager but cannot make the scheduled date, please find someone else to cover for you and let Trudy Syme syme.family@xtra.co.nz and let her know.
Keys
Members are eligible for keys to access the velodrome for training. These require a $30 deposit, as well as a signature from a track committee member. To get a key, print off and fill out the form below then contact Chris Ford to arrange collection of the keys. All velodrome users should fill out the book in the track centre.
Velodrome gate key application
---
Contacts:
Track Convenor: Chris.cgford@gmail.com
Track Committee: Track@cyclingotago.co.nz
Performance Training and Motorpacing: (ericmackenzie.em@gmail.com)
Junior Development Programme: nhoskin33@gmail.com
Track Bike Hire and Velodrome Keys: chris.cgford@gmail.com
Photos by Brendan Ward Photography
Useful information: