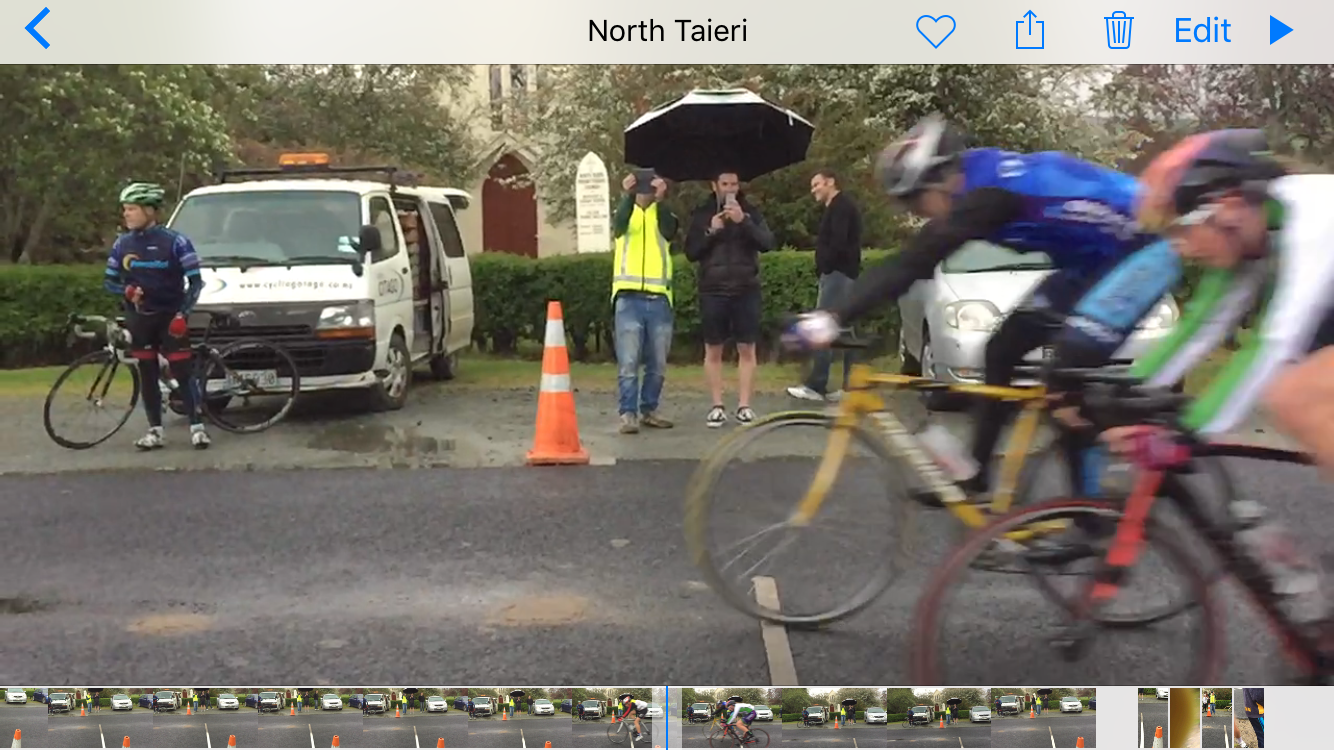 Wayne Green throwing for the line in the C Grade race on the 12th of October.
44 riders once again signed on for the Monday Night Series…This time it was held in less than ideal weather with bouts of rain lashing the course several times during the racing.
The bunches mainly stayed together, circulating well in all grades with the heat only being applied during the last lap. This programme of racing over the last 3 weeks has seen all types of tactics applied and the consistent and tough racing will only see all improving with time. This is the best result.
5 riders in A Grade
16 in B Grade
10 in C Grade
5 in the Development Grade
8 in the Juniors
The largest and most competitive this week, the B grade let the fireworks off for the final sprint to the line. Tenacity and hard work saw Ray Hope take the honours by a mere tire width over a fast finishing Anthony Garvie and Tom Kaminszky.
Results
1. Ray Hope
2. Anthony Garvie
3. Tom Kaminszky
4. Ben McDonald
5. Ella Harris
6. Todd Redpath
7. Andy Willmott
8. Graham Harris
9. Paula Hasler
10. Mary Gray
Most combative rider Mary Gray
(results are a combination of rider feedbacks as they were too tightly bunched for the line marshals)
The Junior riders made an impressive sight rolling down Waironga road, and largely stayed together this week. Again Thirza Smith timed her attack well taking 1st and the battle for 2nd was hotly contested between Jody Syme and Mila Rollo. Mila rode a smart race and is improving week on week. This will be a grade to watch in the future. Another stand out performance this week was by Sarah Ford.
Results
1. Thirza Smith
2. Jody Syme
3. Mila Rollo
4. Lucy Swanson
5. Grace Hurring
6. lily Smart
7. Gage O'Kane
8. Sarah Ford
The development grade was bolstered again by some new riders, and even though the weather didn't welcome them to road racing I am sure they all enjoyed themselves. The bunch stayed together for the duration of the race, educating the new riders about riding in a group. At the final 500m however, the confidence began to show with a sprint opened up and riders contesting the win.
Results
1. Matt Caldwell
2. Brendan Ward
3. Luke Murdoch
4. Grant McDonald
5. James Musk
C grade was a hotly contested race also, with the rain settling the riders into a consistent rhythm. Graham Hancock, training for Taupo this year, used his nous to ride the conditions best and take the win from a fast finishing Bradley White. Madeline Cooper-Forster continues to put in good efforts just missing 4th by a great track throw from Wayne green. Her good riding in this grade is improving her race craft week on week.
Results
1. Graham Hancock
2. Bradley White
3. Milke Harris
4. Wayne Green
5. Madeline Cooper-Forster
6. Shannon Hope
7. Matt Bovin
8. Ray Lucas
9. Linda Hope
Most combative rider Bradley White
A Grade was a depleted bunch this week, due to the final of the Calder Stewart Elite Series run yesterday. The smaller bunch didn't make for less exciting racing. Ewan Syme took the win ahead of an attacking ride from Paul Gough. Brendan Hastie is building good form with consistent finishing in the group.
Results
1. Ewan Syme
2. Paul Gough
3. Brendan Hastie
4. Jake Jackson-Grammer
Most combative rider Paul Gough
Thanks again for all the support from parents and corner marshals, without you this series would not be able to be running, and with the consistent numbers it is of a benefit to all in Cycling in Otago.