Series 1 of Monday Night Racing for 2019 is starting on February 4th. First up, all riders need to register (once) through the online entry page. Once registered, you will find all the information you need on this page.  There will be links here to the MNR registration page,  MNR regulations, results as they become available and category listings.  All of these will be updated regularly as any changes occur.
Points Table
The points table will be updated throughout the season following each weeks racing and available here. Note that the points table is subject to change, and if you see any errors, let us know! The points table and category results will be finalised at the end of the season. Remember, only current CO club members can contest categories, and final points are calculated from your best results across a maximum of seven races.
Access the points table HERE.
Marshal Roster

Riders can self-select their round/s to marshal on the 2019 Series 1 Monday Night Racing Marshal Roster and will receive 20 points (one off). If required, marshals will be appointed by the organising team. It is the rider's responsibility to ensure that they fulfill their marshal duty, or provide a proxy. Points will be deducted for failure to marshal when required.
Online Entry Page
Registration for this series of MNR can be done through the online entry page 
Payment Details
Payment of race fees can either be made on the night in cash or paid online, the details for which are:
Cycling Otago Inc. ANZ 01-0906-0005289-00  (please Include Name and Ref# MNR)
MNR Regulations
The regulations can be found here: Monday Night Racing rules and information v4_rev2019-1
Key details for this series are included here, so once you have read the regulations this is a quick spot to come back to check.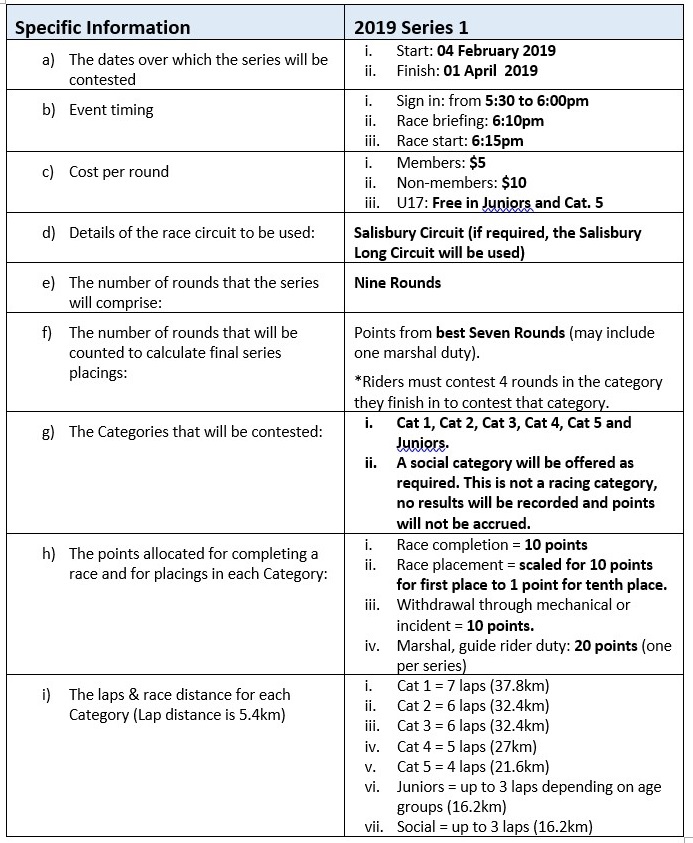 Rider Categories *
As a starting point for 2019 series 1, we will roll over the categories that riders finished in during the 2018-2 series: MNR 2019_1 Starting Categories
Any changes can be indicated during online registration or in advance of Round 1. No last minute changes on the night please.
* During the MNR series, the categories will be reviewed and movement may occur.
Contact Details for MNR Series 1 2019

Paula Hasler – email: paula.hasler@otago.ac.nz